What is E-mail Reminder?
E-mail Reminder is an add-in for Microsoft Outlook® which allows having a follow- up of your E-Mails.
When you send an E-Mail with E-Mail Reminder, you will be reminded after a defined time about the messages that were not answered.
When you are reminded, you have the opportunity to send the message again with a predefined or custom text.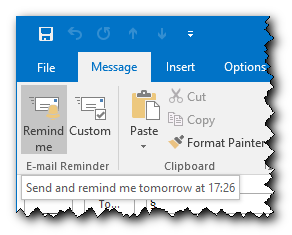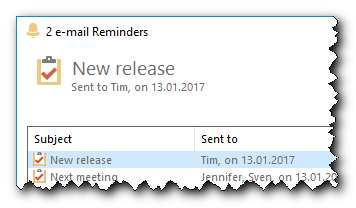 How E-Mail Reminder can help me?
E-Mail Reminder will remind you about your unanswered E-Mails, it will allow you to re-send that E-Mail by creating a Task in Outlook with only one click.
When they send an E-Mail for which they expect an answer, most people add manually a Task in their Outlook calendar allowing them to not forget about it.
With E-Mail Reminder, you will save time because it allows you to send the E-Mail AND create The Task with ONLY ONE CLICK.
I want to try it out!
Download a free full functional 14 days trial version.